Each fall, eight of Mississippi State University's notable alumni are invited to return to campus as distinguished guests and deemed Alumni Fellows. They are honored in recognition of the ultimate measure of a university - the quality of its alumni.
The fellows program allows the university to recognize individuals who have distinguished themselves in their careers. Alumni Fellows hold the distinction for life.
Sponsored by the Mississippi State University Alumni Association, the colleges, and the Office of the Provost, the Alumni Fellows Program recognizes alumni who have distinguished themselves in their respective careers. They are selected by each academic college and are invited to return to campus to meet with students, both in the classroom and informally.
Through the years, this program has served as a means for enriching the MSU experience by exposing students to outstanding alumni who share extensive knowledge and real-world experience from their respective field. These outstanding alumni are willing to talk about specific competencies, attitudes, and efforts needed to succeed. It is an exciting and stimulating way to blend the interests of the accomplished professional, the student, and the professor.
2021 A&S Alumni Fellow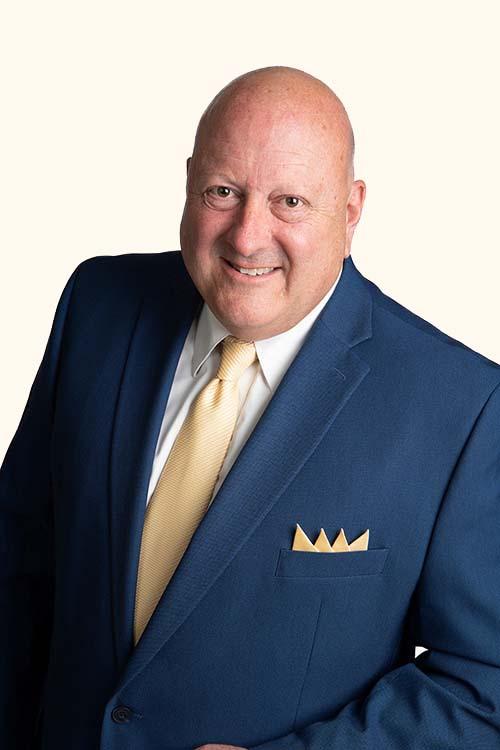 Bruce Thomas is a distinguished meteorologist better known as the "Weather Radio King" among audiences in the Midwest. His career in weather began during his time as a student at Mississippi State University in the early 1980s, and today he continues his work as chief meteorologist for the News-Press Gazette TV station in Saint Joseph, Missouri, and a consultant for predictive weather modeling platform Weather2020.
A native of Mississippi, Bruce enrolled at MSU at the age of 16 and began pursuing his studies in geosciences. The geology field trips to Big Bend National Park and the Ozark Mountains in Arkansas were among his favorite student experiences. Bruce was also proud to serve as the first student weather forecaster on campus, sharing his weekly forecasts in MSU's student-run newspaper, The Reflector.
Bruce also credits the mentorship he received at Mississippi State for much of his success. Last year, he created the Dr. Charles L. Wax Endowed Climatology Faculty Fellowship at MSU in honor of Wax, a professor emeritus and former geosciences department head who greatly influenced Bruce's education and passion for meteorology. He pursued postgraduate studies at Texas A&M University while serving as the local television weatherman for nearly a decade in Central Texas.
Bruce is a member of the American Meteorological Society, where he earned the designation of Certified Broadcast Meteorologist, and is a past president and lifetime member of the National Weather Association. His dedicated service and career spanning more than three decades has garnered several honorable distinctions, including the National Weather Service Weather-Ready Nation Champion Award in 2019 and the prestigious U.S. Department of Commerce NOAA/National Weather Service Mark Trail Award in 2006.
For Bruce, being chosen as Alumni Fellow for the MSU College of Arts and Sciences is the apex of a long career journey that began when he was an ambitious, young student at Mississippi State. He resides in Lenexa, Kansas, and has two daughters, Betty and Tori.
Past Fellows
1990 L. Burton Barnes, III, '70, '74
1991 Dr. David H. Irwin, Jr., '72
1992 Lewis E. Nolan, '67
1993 Dr. Ralph W. Alewine, III, '68
1994 Henry E. "Hank" Johnston, '65
1995 Cecilia Reese Bullock, '69, '94
1996 Dr. Susan Brown-Skrobot, '78, '80, '83
1997 Newton F. Hamlin, '64
1998 William "Bill" C. Mattox, '72, '73
1999 Kevin T. Ivey, '84
2000 Mark C. Rohr, '73, '75
2001 Judge William Alsup, '67
2002 Sidney L. Salter, '88
2003 Dr. Larry R. Grillot, '68
2004 Dr. Ronald Greeley, '62
2005 Marion Harris, '91, '93
2006 Mary Catherine Di Nunzio, '90
2007 Kevin Robinson, '01
2008 Adrienne Pakis-Gillon, '80 and William Gillon, '80
2009 Mark Worthey, '84
2010 Cindy Stevens, '83
2011 Dr. Randy White, '66
2012 Dr. David Wigley, '79
2013 Dr. Fred Corley, '68
2014 Dr. M. Diane Roberts, '63, '64
2015 Laurie R. Williams, '79
2016 Tommie Cardin, '83
2017 Debbie Rabinowitz, '69
2018 Greg Barker, '88
2019, Dr. David Seago, '97
2021, Bruce Thomas,