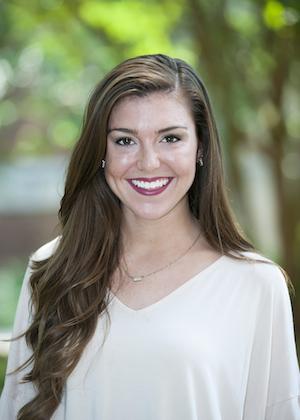 Welcome, future Bulldogs! I am incredibly excited that you are interested in studying in the College of Arts & Sciences at Mississippi State University. Here at the College, we understand the value of a diverse educational background. The experiences you will gain from the College will set you up for both professional success and personal growth. Being an alumna of the College myself, I know that firsthand. 
The College of Arts & Sciences is Mississippi State University's largest and most diverse academic college, with programs ranging from the natural and social sciences to the humanities. Our goal is to prepare you for a lifetime of success by equipping you to prosper in an ever-changing world. Students have access to award-winning faculty, cutting-edge research, and top-notch facilities to help them push their limits.
Please browse the links to the right to learn more about the different departments, scholarships, and involvement opportunities available to our students. I would also like to invite you to come visit us so I can personally show you what makes the College of Arts & Sciences at Mississippi State University so special. To register for a campus visit, you can visit campusvisit.msstate.edu. 
If you are ready to become a Bulldog, you can visit apply.msstate.edu.
I look forward to helping you join the Bulldog family. If you have any further questions, please do not hesitate to contact me for more information. Hail State!
Hannah Bateman
Admissions Coordinator
hbateman@deanas.msstate.edu
Majors & Concentrations
Our college is made up of 14 different departments and 27 degree programs. We have something to fit nearly every student. The possibilities are endless and we're here to help. Take a look below and find out a little bit about each department that we offer.
Minors & Certificates
We also offer multiple Minors and Certificates in 19 different departments for both Undergraduate and Graduate Students! Take a look below and find out a little bit about each department that we offer.
Scholarship Opportunities
Scholarship applications for the Fall 2022 - Spring 2023 semesters will be available October 1, 2021. We encourage all students who want to be considered to fill out the General University scholarship application and also the Arts & Sciences conditional application. Check out our available scholarships below!
Getting Involved
Involvement in your undergraduate major can be one of the most impactful and rewarding experiences of your college education.  Many times, the experiences a student has during their undergraduate education can shape their future goals and aspirations.  Many of these experiences take place outside of the classroom through involvement in organizations, undergraduate research, and study abroad experiences. Check out future Research Opportunities, Clubs & Organizations, and more below!
Humanities Camp
Sponsored by the College of Arts & Sciences, this camp will provide 24 nominated scholars from across the state the opportunity to explore the Humanities with other like-minded MS scholars. Through expert lecture and class discussions along with hands-on activities and field trips, the Humanities Camp provides future students avenues of potential study and/or careers and fun along the way!